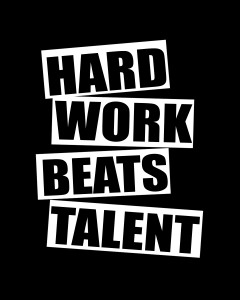 When I was walking into security at the airport the other day the security person seen my shirt (HARD WORK BEATS TALENT) and asked, "do you really believe that?"
I said, "100%", she said, "how do you know?"
I said, "I'm living proof!"
My morning routine is I listen to motivational speeches/programs and there's one thing that stands out, successful people are ones that keep working at it, and when that's not enough they make a new plan and try harder.
I know this is hard to believe, as I didn't for a long time.
There's only one thing that ever holds you back from greater success.
Your FEAR.
You get in your own way.
Even today I responded to multiple emails from clients that stated: the economy is affecting my business, the videos and images I was using are attracting the wrong clients, the word boot camp gives people an impression to expect it cheaper.
We're logical people, trust me, I'm the worst in this fashion.
And all of those things are logical "validations" for the simple truth, your fear is holding you back.
You're afraid that you may not be that good at sales and need to reinvent yourself.
You're afraid to ask for more because you're not sure you're worth it.
You're afraid that they may be disappointed.
You're afraid that the fancy new place down the street might actually be better than you.
Be honest with yourself, you're afraid of many things, so am I.
It's a battle every single day, and how you fare will be the real indication of what you achieve.
Start each day off in the right mindset, do what makes you feel good. For me it's motivational speakers, sometimes while I'm working out, other days it's loud music, my favourite song or spending my first 15-30 min reading a book I love.
Surround yourself with role models. It's true about hanging around with people more successful than you, consciously or subconsciously you will begin to emulate them. (Heck I hung around with my mentor for years until he finally hired an immigration lawyer to import me to give me the reigns of a company to build an international brand.)
Not your muscles, your vision, read big thinker books. I love reading about Richard Branson, Steve Jobs, and books like The Big Leap and Psycho Cybernetics.
Set big goals then work backwards down to the simple daily step.
Embrace simple math, with this and step 3 I'm convinced you can create plan for success no matter what.
Review your goals and metrics regularly.
End each day with the three most important things you will work on tomorrow.
Realize that anyone you look up to really is no smarter than you, then you'll realize just how awesome you are.
Most importantly make someone else's life better today, you can't help but feel better about yourself.
You do these nine things and I promise you, you can't fail!