Are you a personal trainer or a fitness professional with a dream of one day opening your own gym or studio?
Well I remember being there, but fast forward many years and I bought, built, and sold five studios of my own.
I've had partnerships, solo ventures, I've used financing, I've self financed.
And I have helped dozens of other trainers on four different continents open their first, next, 5th or 10th locations.
So I've been building this kind of A-Z series on the steps to take and how to layout your plan successfully, really helping people acknowledge some of the key areas that are generally skipped or misunderstood in this process.
Heck I remember when I first got this crazy notion.
I remember the look of the real estate agent showing me the 15,000 square foot building and he plans I had for the grand temple of iron!
Little did I know my savings of $27,000 was not going to finance the million dollar project!
I remember being deflated when next we looked at the beat up 2000 square foot dance studio, and because it was the only option we could afford felt we had to proceed.
Little did I know at the time the bullet I dodged.
We went on to build a business that would do more than $1,000,000 in personal training revenue in it's first 18 months of operation (this from a trainer who previously struggled to generate $50-70k annually on my own.)
I sold that business three years ago, but it's still operating today, nearly 14 years after it began with the humble beginnings of that beat up dance studio filled with hopes and dreams.
If that sounds at all like you, I hope these videos help you do it faster than I did, and skip so many mistakes that cost me tens of thousands of dollars!
Part 1: Visualizing Your Dream and Finding and Validating A Good Location
Part 2: Projecting Your Operating Costs, Setting Pricing, and How-to Plan to Be Profitable On Day 1
Part 3: Renovation Costs, Total Opening Costs, Financing, and Negotiating Your Lease
If you found any of this helpful I hope you'll subscribe! (Just click here to subscribe www.youtube.com/mrfitnessmarketing)
---
Am I spending too much on Facebook? Should I be spending more on Facebook?
What else should I be spending marketing dollars on?
Is print/radio/flyers/direct mail/this, that or that other thing worth it?
How do I know if any of this is working?
I'm sure all of these and many more questions are going through your head all the time. (And if they're not then clearly you're in denial and just avoiding it altogether which means you need to understand this even more.)
You're working hard to grow a personal training business that works, you can't afford to keep throwing money away on things that don't work.
Worse, it's getting harder all the time with all the extra competition.
Things that worked last month are now twice as expensive and working half as well.
Ahhhhhh….what do I do?
Well as we all know by now, we need to make decisions objectively, this is certainly maybe even more true when it comes to business.
You need to be able to evaluate your fitness marketing objectively, be able to quantify the results.
And here's the great news, not only will I teach you to do that, when you do the decisions become super easy and clear.
In fact you'll stop looking at your fitness marketing efforts as a stressful expense and see them as a lucrative and scalable investment!
Check out this short video, it will teach you all you need to know about calculating your fitness marketing ROI (and likely give you a few new things to think about too!)
If you like it I hope you'll subscribe! (Just click here to subscribe www.youtube.com/mrfitnessmarketing)
---
Lord of the Rings Fan? Ok I am, but it just so happens much like the 7 Rings of Power there are also 7 Fitness Studio KPIs that have proven to be very impactful in running and managing a fitness business.
Don't know what a KPI is? Don't worry you're not alone, it's weird that a group such as trainers who are all about progression and measurement have been shamefully kept in the dark about Key Performance Indicators (KPIs) when it comes to business.
Much like you know with your clients, measurement is key when it comes to your clients, measurement shows progress, but more importantly still it creates dialogue, trust and collaboration between you and your client.
The numbers form an objective point of measurement so you can work together to reaching the desired outcome.
The same is true for your team, your fitness studio KPIs in many respects will decide the outcome of your business.
But here's the best part, all you need is a simple whiteboard, 5 minutes per week and the willingness to learn something new and this can begin having a positive impact on your business in as little as the next seven days.
That's no exaggeration, this short video will lay out the whole process.
It will teach you the 7 numbers, the 7 fitness studio KPIs, why they are important, how to find them, what to do with them, and how to get your team involved with them.
This is one of those blog posts that I hope everyone will somehow find and absorb because I just know the impact it can have.
If you like it I hope you'll subscribe! (Just click here to subscribe www.youtube.com/mrfitnessmarketing)
---
---
---
---
Below is a weekly email I sent to my team to explain the idea of reverse engineering any goal, I thought you might find value in it's application personally or even to your team so I thought I'd repost for you here!
Enjoy!
Do you use reverse engineering in your life?
If not you should, and it's a great concept to understand and be able to teach friends, family and especially our clients.
Reverse engineering is just as Stephen Covey (author of the 7 Habits books) would put it, "beginning with the end in mind."
Most commonly people might think of this in terms of money or finances, and certainly in my crazy entrepreneurial world it's a way I use reverse engineering frequently; but it's so much more than that.
It can and should be used for any goal.
Why?
Simple, what's the only thing that stops us from reaching any goal? (Finances, fitness, personal, any goal.)
FEAR.
Yup that's it. We can be too intimidated to start, too stressed out about the work or how hard it will be, or fearful because we fail one or more times along the way (or have previously failed in our attempts to reach the goal.)
Reverse engineering helps absolve fear by shoring up another thing I'm a big fan of talking about with you and hour clients; and that's confidence.
You know what I'm talking about, that when the step or next task is so small or easy that we're not afraid motivation or action comes easy because well it appears easy.
Now what feels easy to you may not to me and vice versa, which is where reverse engineering comes in.
Step 1: What's the big outcome you want? (ex. Buy a new car/lose 30 lbs)
Step 2: What time frame do you want this to happen in? (ex. 6 months/12 weeks)
Step 3: Break down to next increment. (ex. each month I need to earn an additional $500/each week I need to lose 2.5lbs)
Step 4: Break it down to next smaller increment until it feels easy.
Ex.
I need to earn and additional $125/week, I work an average of 30 hours so I'd need to earn about $4.25 an hour more or increase my working hours by 5-8 / I need to lose only 0.35lbs/day)
Does it feel small enough to you yet, if not break it down further or begin creating a plan.
Ex.
Earnings
Could I talk to my teammates and offer to take some extra shifts?
Do I have a skill or hobby that I'm good at and could pick up a freelance project on the side?
What could I do to add enough value to increase my earnings by an additional $4.25 an hour?
Every testimonial/before and after we publish helps increase our reputation, every new Google/Facebook review we get helps someone on the fence make a decision, every new person that has a great workout has a chance to sign up, every new person you get to come workout the first time has a 50/50 chance of deciding to stay.
Every person you talk to about staying longer has a better than 50% chance of deciding to stay. Have a look at the "Levels in your job description" for ideas on how you can quickly achieve this. Could I speak to 3 people per day about continuing and basically "1-2" memberships per week? Or find 1-2 new people per week to try a workout by asking daily on my personal social media? Does that seem easy and sustainable?
(Now boys and girls, full transparency, I mention this because I want you to choose this one, as selfishly it's the one that can help me the most, but there's also a bigger reason. This is the one where if we all work together the results/potential are limitless so selfishly it should appeal to you too!)
Could I learn about something new and start building a passive or additional income?
Last year I became curious about Amazon, in September I sold $184 on Amazon all things I bought in clearance bins with less than $100 of starting capital, in October that was $1994 with a profit of $330, last month we sold nearly $40,000 on Amazon! Now I wish I could say you could grow like that with $100 to invest but that isn't true. But my point is that anyone could easily generate $300-500/month on Amazon with 5-10 hours/month worth of effort and I will even teach you how.)
Could you dedicate 1 hour/day Monday-Friday to learn about how to sell on Amazon and another 3-4 hours/week to go and shop for things to sell? Does that seem easy and sustainable?
Fitness
0.35lbs of fat = 1430 calories of energy.
30 minutes of boot camp = approx. 400 calories
Reducing daily calorie consumption by 10% = approx. 180 calories
Adding 30 minutes of slow distance cardio = approx. 200 calories
Reducing starchy carbohydrates and replacing with fibrous to increase energy utilization during digestion = approx. 150 calories
To me this is about the maximum that seems "easy" and might be overwhelming already for many, so we must re-evaluate the goal, if it took 16-18 weeks to lose 30lbs would you still be satisfied? Does the above seem simple? Only works if you can answer yes to both!
Anyways, that's my attempt to teach you the power of reverse engineering, it can work for anything like: setting dedicated working hours or working less, like improving your relationships with others, like accomplishing any big milestone in your financial life, and even spirituality or emotional growth.
Please let me know if there's anything I can do to help!
---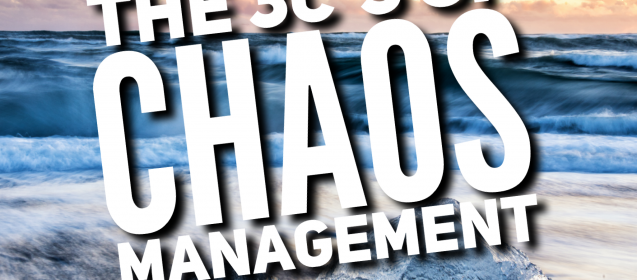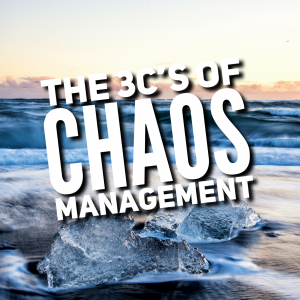 We all know by now if you're going to own your own business and be an entrepreneur chaos is nothing new.
In fact we must always work to embrace the chaos as the only time to worry is when chaos is enveloped by calm.
When all is "calm" that's a clear indication you're not pushing, reaching, stretching or evolving fast enough as a company or team and will be the time you're entrepreneurship is at real risk.
So this week's topic is "Chaos Management."
How do we handle and embrace chaos so that we don't become overly stressed or burnt out?
Let me share with you the concept of the 3C's of Chaos Management.
If you're striving and pushing as hard as you can life will always be chaotic.
Chaos attempts to break us, burn us out, or leave us paralyzed due to stress, this is the paradox of achievement.
In order to reach a new level of success or achievement we must face and avoid, or overcome burnout, mitigate stress, and still find time for joy and happiness in the midst of continually urgent demands.
Now success can be many things: helping more people become the best versions of themselves, finding more time to do things you love, establish more and more meaningful relationships and so on.
No matter how you define success to reach a higher level of success we must increase our level of output or expenditure to that activity. Make sense? (ex. Even reducing stress requires greater output; just the output might be different such as allocating more time for meditation and reflection.)
So what are the 3C's of Chaos Management?
First is Control.
With all the demands upon us inevitably some of that burden is within your "wheelhouse" the things that seem easier than the rest.
Usually we focus on these things first, they bother us less because we're comfortable with what we're facing, control is the easy part (but still make it a habit to deal with these items first because they increase confidence which will help with the remaining 2Cs.)
Next is Change.
What skills can you learn this week? How can you become more competent in what you already know? What things are you doing that you can do better at? What systems do we have that you see we could make more efficient? Is there a better way of doing something?
The real mark of embracing change is to take ownership and lead from the front; but as leaders we must really strive for our team to act in the same way.
We want them to feel comfortable and confident to vocalize ideas for improvements, ask for permission or take action to make improvements and then share their successes with their direct reports and team members.
Make it a safe place to fail and affirm that the only real failure is to fail to act or tray. (In our organization the only caveats being if there is a risk of someone getting hurt or a significant financial risk you must clear it with your direct report first.)
This is one of the purposes of the frequent reviews in an effort to increase collaboration and support change as a whole.
Finally is Cope with what you can't Control or Change.
Like I said above the paradox of success is we must embrace the chaos that comes with stretching in any area but with that there will always be things that there's nothing you can do about right now.
Do your best to embrace, accept and move on, not everything will work, it's certainly not going to be easy, you will let people or yourself down from time to time.
In the end coping is a part of striving and it's just a matter of asking yourself these two questions for all important affirmation:
Did I/Have I done the best I possibly could?
Has my positive impact/feedback outweighed that which I can't control/negative feedback?
Remember without chaos you are at risk for extinction.
Don't dread being busy, the unknown or the stress of responsibility for if you do you're in dreadful danger of adding to the statistic of entrepreneurial failure!
You've got this!
P.S. The image in the meme above is one of my own taken on a trip to Iceland last February at an amazing place called "Diamond Beach" I highly recommend checking it out if you ever get a chance!
---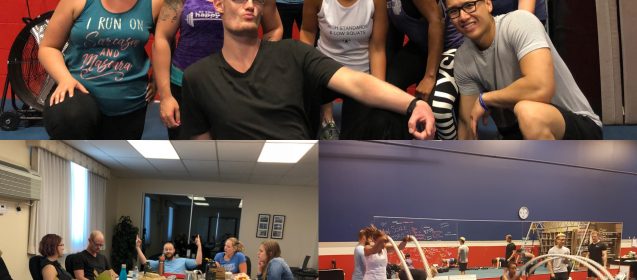 It's humbling to say the least; but leadership has not come naturally to me.
In fact it's awkward to vocalize it (though a kind of therapy) I never realized I was such an introverted person.
I mean I guess maybe I should have clued in as I've always joked, "I like my dogs better than most people."
But all jokes aside I think you get the point, leadership has been a challenge and as such my teams have seen many plateaus in my businesses that have been hard to get through and usually resulted in some turn over.
Now that's not to say we don't have great teams, or that we haven't had great success, or even that we've had bad company culture. None of those things are true; but what is, is that it became clear to me that management and leadership needed to improve to position our companies for next level massive growth.
So today I wanted to share with you some of my biggest breakthroughs in building a team that's going to let you add more digits to your revenue and profits.
Rule #1: You need more applicants.
One of the biggest mistakes I've made repeatedly is we weren't getting enough, reviewing enough, and interviewing enough applicants for an open position.
On average I now like to see at least 50 applicants for any position, whether that's a trainer or an administrative role.
Many of you might be thinking; how do I even get that many applications quickly?
Well for me that's come from three specific sources: mailing to my email list, spending money on paid posts on Facebook and paid job postings on sites like Indeed.ca/.com
All of our applicants now start their process with a group interview. That group interview begins with a workout after which they meet with my manager who asks the following questions: (If you've read the highly impactful book Double, Double by Cameron Herold you might recognize some of these, I you haven't you should!)
What are your favourite books and why?
What is your favourite movie, and why?
What car is most similar to you as a person, and why?
What was the most stressful time of your life, and why?
What was the most complex project/situation you ever led, and why?
What stresses you out?
Why do you want to work here?
Who is the best candidate in the room, and why?
If we were to hire two people, and you were one of them, who would you want us to hire to work with you?
When could you start?
*(Only ask this if there are not clients within ear shot, but great finishing question) How much do you need to earn per hour/annually in year one? Year three?
Our favourite time for group interviews is Friday at 5:30-7:00 PM (especially on long weekends.)
This process has saved us so much time and easily allows us to find the 3-5 top tier superstars out of the 50 applications we receive. These candidates then progress to a 90-minute second interview with me via Facebook messenger (great way to get them to add you as friends so you can see what their social feed looks like since people's profiles are getting harder to find.)
This single adjustment completely reshaped my team in less than 60 days.
Rule #2: Foster communication, frequent communication.
I've been referring to it a lot lately, I guess because leadership and management has been on my mind so much.
I heard someone speak to a reference from Harvard Business School recently that went something like this, "as much as 86% of businesses that fail, fail because of poor communication, not a bad product or bad service."
I have no idea if this is accurate but I'd be willing to bet that it is.
It's a simple fact that any business that is actively trying to grow is going to be a bit disorganized, if you're not you can't be growing as fast as possible, that's just the way it is.
When organization lacks; outcomes are dictated by the ability of the team members to make good decisions in that moment, let's face it when chaos ensues we all default to perception and instinct and kind of make it up as we go.
Your goal is of course to ensure that the thought process that leads to those decisions is as much in line with your vision as possible. So how do you do that?
Well we've had massive success in just a short time using really regular employee reviews. (Weekly for the first 90 days, then monthly after that.)
(CLICK HERE to see a sample of one of our reviews)
I firmly believe in perception based questioning, so a lot of our review elements are based on 1-10 scale questions. Both the direct report and the employee will complete the review prior to the review meeting; the purpose is to clarify both performance, objectives and expectations and make sure they align with the company vision; but more importantly manufacture a frequent point of real communication so introverted people like me don't keep putting it off.
Which leads me to rule #3…
Rule #3: Have a clear vision and values to live by.
I have to admit; over the years I've seen so many dusty mission and value statement signs in businesses that I began to brush their usefulness aside. Only recently I have truly begun to understand the significance and how to apply them.
What do you stand for?
Why is it important to you?
If you visualize your company in 3-5 years from today what will have happened?
I now believe this is so critical to success I urge you to stop reading and start writing right now!
Doing this kind of brainstorming activity recently lead me to shift the whole organizational structure of my companies, and the benefits it would bring became so obvious.
But describing your vision in as much detail as possible it will set your mind to begin to rationalize what does that end goal really look like?
From there you will begin to assign the concrete markers like how much revenue you will be generating, how much profit, how many employees you might need, how many customers, the impact you will have made with your product or service.
From there you can begin to work backward to where you are today, what do you need from each member of your team today to begin moving toward your vision? What are the bullet points of their day-to-day tasks? What more do you need to expect from them as you grow? Who are the new people you will need to your organization?
Soon you'll end up as I did with a great list that will become the "job description" for each position in your organization and likely even a career roadmap for them to follow as they help you build the company illustrated in your vision.
(CLICK HERE to see our Mission, Vision, Values)
(CLICK HERE to see a sample of our Trainer Job Description and Career Path)
---
Trainer (25-33 hours/week Salary Range $31,000-65,000)
Direct Report: Manager
Position Overview: The Trainer works directly with the clients in a group setting to provide 30 minutes of high intensity circuit training. Our program is designed to be the best 30 minutes of our clients' day, every day! In addition trainers will provide encouragement, resources, ensure safety, and coaching to a variety of fitness levels on and off the mat.
Expectations
On the Mic Standards (Expectations of the trainer while clients are present)
Be the best 30 minutes of our clients day every day!

Always exude high energy and run a highly energetic training session

Greet, welcome and congratulate people (Preferably by name, expected to learn every single person's name and use as often as possible.)

Effectively demonstrate how to perform various exercises during a group session.

Provide corrections as needed and use breaks to further educate clients on biomechanics and how to maximize the benefit of the workout.

Always know who's new, focus, protect and develop the new people.

Monitor clients' progress and continually challenge them to push beyond their current limits.

Recognize veterans frequently (gold stars, make them station stars (have people look at what their doing as an example of good form)

Develop relationships with all clients, knowing names and what their "why" is for attending bootcamp.

Maintain safety at all times

Wrap up with praise and acknowledgement

Be willing to help people between camps in any way they need (Zen Planner, learning, form, nutrition, modification, etc)

Understand and adhere to company core values, leading by example at all times.
Off the Mic Standards (Expectations of the trainer when clients are not present)
Work with other trainers to design a variety of safe and effective workouts and submit on time. (Test the exercises, are they safe for deconditioned Mrs. Jones? Could a simpler/safer variation/alternative be just as effective?

Reset the floor, make sure the workout floor is organized at all times.

Tidy up (not just the workout floor, common areas too ex. Bathrooms, lounge, etc)

Client follow up (relationships are everything the more we reach out the more compliance we get, the better the results are the more fun this is.)

Client assistance (Zenplanner, etc, you need to know how to do just about anything in Zen.)

Teardown, vacuum, and setup the new workout.

Update/Review whiteboard KPIs weekly.
Required Education Training
FBBC Certification

48hr Fat Loss training

Nationally recognized certification

Zen Planner (know all aspects of account management)

Sonos/Spotify

Skulpt

Ongoing continuing education

Martin Rooney

Alwyn Cosgrove

Anatomy

Psycho cybernetics

Extreme Ownership

Delivering happiness
Points of Measurement:
Attendance

Total Number of Members

Cancellation

Before and Afters

Spot checks (Video review of camps, or direct review by Manager/Director of Operations)

Quarterly Review (Including scores from client satisfaction survey)
Qualifications/Requirements:
Current nationally recognized training certification.

Current CPR (First Aid is a bonus)

Must be high energy, positive and outgoing all the time!

(Preferred) A minimum of 2 years previous training experience is a huge asset.

(Preferred) Minimum 2 years post secondary education in a related field.
Level 2 Trainers:
Exemplify all standards as above

Typically have 0-3 years of experience

Maintain a strong safety record

Workouts always submitted on time.

Directly responsible for the regular submission (min 1-2/month/trainer ex. 2 trainers = average 2-4 submissions/month of before and after photos showing substantial change (20+lbs total lost)

Receive strong quarterly feedback with 85% or more of client submissions at more than 8 on approval rate.

Show regular initiative to award gold stars and take photos.
Level 3 Trainers:
Maintain a strong safety record

Directly responsible for the regular submission (min 1-2/month/trainer ex. 2 trainers = average 2-4 submissions/month of before and after photos showing substantial change (20+lbs total lost)

Receive strong quarterly feedback with 85% or more of client submissions at more than 8 on approval rate.

Post regularly on company social media.

Can be attributed for client referrals on a semi-regular basis (at least 1/month)

Is regularly responsible for submitted before and afters (they hand management or directly facilitate submissions for 2-4 before and afters/month)

Nurture and foster our online reviews (home location receives 2-6 new reviews/month on places like Google and Facebook page.)

Complete all suggested continuing education on time.

Demonstrate a willingness to learn and dramatic improvement on related areas of work (ex. Zen Planner knowledge continual improvement.)

Make a strong effort to know all client's names.

Always know who's on a trial and facilitate continuation conversation with them.
Become engaged in the community (ex. Member initiatives like grocery store tours, running events that bring new guests to us, getting involved in volunteer/fundraising initiatives.)

Regularly responsible for new sales from new trial clients.

Show signs of embracing continuing education by completing all suggested reading and new reading they've taken initiative to explore.

Regularly involved in content generation (articles and videos on various topics)

Constantly promoting the studio via personal social media.

Is regularly responsible for submitted before and afters (they hand management or directly facilitate submissions for 4+ before and afters/month)

Be entirely flexible of schedule and willing to fill in where needed.
Level 4 Trainers:
Quarterly volunteer participation.

Very active in continuing education (regular event attendance, exploring new certifications, influencing the teams education with what they've learned.)

Is regularly responsible for submitted before and afters (they hand management or directly facilitate submissions for 6+ before and afters/month)

Always exploring and implementing new exercises/burnouts/workout styles to keep things FUN and different for clients

Workouts are completed and in the journal before they are due

Gold stars handed out at least once per shift

Be proactive in helping organize client events or new ideas for theme nights, referral contests, in house mini challenges
Level 5 Trainers:
Exemplify all standards as above

2+ Years experience minimum

Receive regular praise publicly and privately by clients (ex. Endorsements to leadership, on social media publicly or privately.)

Have a strong track record for going "above and beyond." (ex. Could be organizing a volunteer activity, taking initiative to organize a fundraiser, strong track record for assisting clients beyond the gym hours (while maintaining a work/life balance.)

Strong track record for continual personal self-development (ex. Regular attendance to industry events, an average of one or more books/month related to any aspect of field.)

Seeing regular weekly increases of 10+ net clients in home location.

Regularly having weeks/months of minimal attrition (less than 2% of total members in month)

Is directly or indirectly responsible for submission of high volume of before and afters. (2-3/week/trainer/location ex. 2 trainers = 8-12 before and afters/month of 20+ lbs lost.)

Very active on social media (typically posts gold stars and work related moments 2-3/day on IG and or Facebook.)

Active and regularly promoting the studio on personal social media (posting and tagging people in promotions, inviting personal circle of influence to try camps via 3 free/1 week free.)

Is directly/indirectly responsible for high amounts of member referrals leading to sign ups (average of 5 signups or 5/10 referrals/trainer/month/location)

Knows every client's name and makes habit to use them frequently.

Regularly demonstrates comprehensive knowledge and understanding of all components in training list (ex. Zen planner, etc)

Regularly contributes educational content to the mailing list and other audience vehicles.

Regularly engages in Facebook live/Instagram Live video educating or promoting the business.
---
YES! Contact me today to schedule a FREE no obligation consultation and trial workout.
[contact-form-7 404 "Not Found"]