Did you catch the video I posted last week about hip and spine mobilization from Jeff Cubos? I really thought it was a great refresher and reminder of treatment and training ideas for a key body area. There's no doubt that the hips are one of those areas we could likely make a career out of. Here's the post if you missed it.
Today here's another great video from Dean Somerset. Dean likely doesn't know this because we don't know each other well but I am actually a tremendous fan. Dean has amazing knowledge and ability to assess and evaluate biomechanics, he's a true master in our field. Here's a really awesome video on hip mobility that I also shared with my training team.
[youtube]http://youtu.be/2fzDw-vgQZ4[/youtube]
If you like the content in this video there's no doubt you'll want to check out the product they offer for core and spinal health, it's a phenomenal resource that will undoubtedly benefit your clients.

---
I've always told both my training clients and upcoming trainers in the certification courses that I've taught that as trainers we could easily focus our whole careers on three key areas, hip function and mobility, the stabilization of the shoulder girth, and of course core function.
Here's a great short little video that was forwarded to me from a friend and colleague Rick Kaselj on assessment and mobilization of the core and spine. I felt it was informative, I immediately shared it with my whole training team and I thought I'd post it here for you as I figured some of you would benefit from it as well.
[youtube]http://youtu.be/Z1SUb-xCqCE[/youtube]
If you like the video you might want to check out Rick and Jeff's product, it's very well done, highly informative and there's no doubt in my mind that you'll gain tools that will immediately benefit your clients and ultimately the growth of your business.

---
Welcome back Dr. Dan…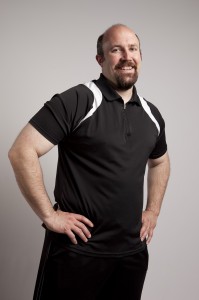 The Boomer and senior market will be the fastest growing "niche" if you can call the soon to be dominant market a niche in the fitness industry.    Boomers are turning 65 every day at an alarming rate!   10,000 every day!!   I won't bore you with stats on how this population segment is exploding, since for this post I want to focus on how small group personal training is very successful currently in our studios for clients over age 55.
I often get the question from younger clients, ones in their 30s and 40s….."So how do you train people of different levels and you aren't going to stick with me with old people are you?"   I try not to laugh, but can't hold back a smile when I say I tell you what we will put you in training groups appropriate for you, and then as you are ready to move up we will look at moving you into more challenging groups.   Then I ask so do you think you can do 30 pushups on your toes, with good form and no rest?   One of our 82 year old….and female clients in small groups can do that?    The reality is our small group clients in their 60s, 70s and beyond are inspirations to all the clients younger than them, and actually create a more relaxed non-threatening environment for all those younger women who honestly are terrified of a gym, a bootcamp or a training facility.   They see women older than them and realize good grief if they can do it, and kick my butt doing it…..I gotta get going.
Small Group Training for older clients works very much the same as for younger clients.   Now we do have to be selective on some groups and it is more beneficial to put several over 70 clients in a group together at their pace.   But we certainly have many clients in their 50s and 60s that can hang with the younger crowd just fine.
The biggest difference is simply being a little more aware and a little more prepared with modifications.   With a small group made up of all clients over 60 you are bound to have some knee, hip or shoulder issues so you have to be prepared with several modifications.   Burpees, Squat Jumps, Mountain Climbers will probably not be your go to exercises with these groups.   But there are many great exercises you can do and incorporating some more balance and mobility focused ones works well also.   Lunges and Squats are still great, Total Body Extensions (Squat Jumps without the jump), Step Ups, many different forms of pushups ranging from on the wall to a bench to on your knees to the full toes can all be incorporated.
Of course for our facilities our entire focus is on the 50-65 year old female client, so small group training is what we have designed and planned with them in mind.    Do we occasionally get a new client in that isn't ready for small group because they have too many joint issues and too much deconditioning, yes that does happen and then we require they go through 1-2 months minimum of 1-1 training to be prepared for small group training.   Of course this is at a much higher price point.   And we do still offer 1-1 training long term if people really want that, but we try to steer most people into small group training since it is much lower cost to them and much more profitable for us.
We have found that by being singularly focused on the 50-65 year old female we attract men 50 and over easily because we simply don't have the no-pain, no-gain, yelling and screaming testosterone pumping environment.   It also immediately becomes a place where women 30-50 feel comfortable with their weight loss struggles.   Do we struggle to attract the super fit, super buff young males and females…..yes we do, but that is okay because we don't want them anyway!
The final benefit is the small group training to the older clientele fills ups your days.   We have group training at 9am, 9:30, 10, 10:30, 11am, 1215, 1, 130, 3, 3:30, 4, 4:30…..and of course all your early morning and evening times for the younger working folks.  These older clients allow us to have a group training schedule that keeps trainers training all day long.    If you aren't thinking about the boomer and senior market it is time you woke up to the next big thing in the fitness industry.   These older clients have the financial resources and the physical need; they will be the dominant force in the fitness industry.
Dan M Ritchie, PhD, CSCS, HFS-ACSM
Dan Ritchie, has a broad background in the fitness industry including training and management in commercial and university/hospital-based fitness, for-profit, not-for-profit and educational facilities. His primary areas of expertise are in personal training for special populations (pregnant women, those with chronic disease and/or disorders such as Parkinsons, multiple sclerosis, cerebral palsy, Fibromyalgia and Alzheimers, etc.). He has participated in state funded research on exercise for Alzheimer type severe dementia and regularly presents at national and regional conferences. He is a past Board member of the Midwest American College of Sports Medicine and was nominated for the ACSM National College Board of Trustees in 2008. He has been the Enhance Fitness Master Trainer for the State of Indiana since 2007. While at Purdue, he received a Lynn Fellowship and a National Strength and Conditioning Association research grant, and in 2009 his Ph.D. in Health and Kinesiology, with a minor in Gerontology.

His experience also includes:
FallProof Instructor Certified, from California State, Fullerton, 2006-present
2005 Thesis of the Year Award from University of Wisconsin-Whitewater
2004 Graduate Student of the Year, American College of Sports Medicine, Midwest Chapter
2005-2007 Student Affairs Committee, ACSM
2005-2007 Board Member Midwest American College of Sports Medicine,
2008 Nominated for ACSM Board of Trustees
Enhance Fitness Master Trainer for State of Indiana 2007-current
Presented at Amercian College of Sports Medicine, National Strength and Conditioning annual meetings, Athletic Business Conference, National Council on Aging annual meeting, World Congress on Physical Activity and Aging
---

It's always been my belief that Profitable Personal Trainer should be about more than just great business building systems and effective personal trainer marketing tactics. Though it's clear that there has always been a gap when it comes to simple, practical, effective business education through the standard personal trainer education channels; most of us are always programmed to watch for useful technical and coaching information that allows us to be continually better trainers.
Here is another guest post from Cody Sipe, PhD, him and Dan Ritchie, PhD are two of the most effective and successful guys I know when it comes to training older adults, they really do create miracles at Miracles Fitness. I hope you find this helpful, take it away Cody…

I'm often asked what the best exercises are for older adults and I always reply "best for what?"  I've researched, studied and tested more exercises than I care to remember to try and figure out which ones are the best for improving physical function.  It is difficult to make an absolute list because the best exercise for an older adult is determined by their current needs and abilities.  However, after two decades of training older adults there are several that have risen to the top of my list because they offer a multitude of benefits for clients, can be easily modified or varied, and can be used with a wide range of functional levels.  So here are a few that you've just got to try.
Standing 1-arm Cable Row: This is a great functional way to challenge the posterior chain with a small transverse plane demand.  Put clients in a split stance with legs slightly bent in order to resist the forward pull of the cable.  Posture is key so cue them to stay upright and "solid" during the rowing movement.  Do not allow them to twist about the waist.  You have the option of doing this with same foot forward as the hand holding the cable (ipsilateral) or opposite foot forward (contralateral).  Switch back and forth from session to session for variation.  Vary the height of the cable to alter the line of pull and create a new demand.
What time is it?:  Awesome exercise that includes multi-planar lunges while challenging cognitive processing.  Have clients stand in an open space and imagine they are in the middle of a clock face that is on the ground.  12:00 is in front of them, 3:00 to the right, 6:00 behind and 9:00 to the left with all of the other numbers in their normal positions.  Call out a time, such as 12:00.  The client should lunge to that time and then return as quickly as possible.  For the numbers on the right side of the clock they should lunge with their right foot and vice versa for the left side.  You can increase the cognitive aspects of this exercise by calling out the times quickly so they have to react quicker or by calling out 4 or 5 times in a row that they must remember.  This exercise is very scalable.  For frailer clients or those with balance problems I have them step instead of lunge.  For advanced clients I have them perform upper-body tasks simultaneously with the lunge.
Power Stands:  Getting out of a seat is a common, everyday task.  In order to add a power aspect to this movement I have clients perform chair stands explosively.  They begin in a standing position and lower themselves slowly to the chair.  Once they transfer their weight to the chair they must "explode" and stand up as quickly as possible.  The movement should be similar to jumping but without plantarflexion so that they clients don't actually come off the ground (for the few that could).  Foot position affects performance and varying foot position can be beneficial.  The basic position is feet in front, shoulder-width apart.  You can also do wider than shoulder-width with toes pointing slightly out or shoulder-width but with a staggered stance (one foot slightly ahead of the other).  When using the staggered stance you can have them take 3-4 steps after standing like if they were taking off from the chair to race someone.
Through the Gait:  Practicing different gait patterns has huge benefits for older adults.  Their gait tends to become stiff and inflexible so that they cannot negotiate environmental demands as easily such as steps, slopes, slippery surfaces, uneven ground, etc.  Some of my favorite gait patterns to use are Monster Walks, Sleeping Dog, Carioche, Braiding, Red Light Green Light (yes like the children's game), Heel Walks and Toe Walks.  Cueing vision is very important.  Clients have a strong tendency to look at their feet the whole time.  Cue them to keep their head up and focus on something across the room.  Safety is also a major issue.  Be sure to use an open area and stay close to them so you can catch them if they stumble.
Knock-outs:  You can use a low-inertia cable column, a Keiser (pneumatic) cable column or a resistance tube for this movement that focuses on anterior core stability.  Do not use an old school cable column that doesn't allow you to perform fast movements without the weight jerking around.  Have clients grab the cable with it anchored at about chest height.  The client gets in a staggered stance and turns away from the cable so that they can perform a 1-arm chest press.  Keeping an upright posture have the client "punch" in front of them by extending their arm and twisting their body slightly.  They should not lean forward but rather maintain their upright posture throughout.  A great variation of this is to have them stand beside the cable.  So let's say the cable is anchored to their right.  They will step to their left and turn their hips and body to the left simultaneously while punching.  Since they have turned their body they end up in a lunge position punching straight ahead.  So it is as if they are trying to punch someone beside them.  In fact, I typically stand beside them and put my chin out as a target and tell them to try to knock me out (one person almost did when I stood a little too close!).
---
---
---
---
---
YES! Contact me today to schedule a FREE no obligation consultation and trial workout.
[contact-form-7 404 "Not Found"]