I get asked this question a lot…
How would you start a successful fitness business if you were just starting over.
Not how I would start one today with all the resources now at my disposal, but to rewind the clock and with all the knowledge (from all the painful mistakes I've made) how would I start out today (currently 2017) with limited resources?
The good news is, it's cheaper and easier than ever. You have so much direct control over things that we never used to have, you can control expenses better than ever before and new customers are just a few clicks away!
In this video I share with your some of my thoughts of exactly how I would do it, I hope this gives you some direction.
What do you think? Did this video give you some ideas?
One of the things I've found is; that it's easy to keep gathering information, it can be a pretty scary thing to actually go out and do it.
Something that seemed so simple suddenly becomes scary, or a lot more complicated.
Our industry is built on the fact that as people, as human beings, we need each other; we need support, community, confidence and accountability.
I love helping people, I love helping fitness professionals help more people, maybe I can help you.
From time to time I take on a few private coaching clients, if after watching the video above, if you're serious about taking big action in your business maybe I can help you. Quite often I help fitness pros add $5000, 10,000, $15,000 a month in additional revenue in 60-90 days. If you'd like to know more about private coaching send me a message here.
---
Competition is fierce these days, having a strong point of differentiation is continually growing to be more difficult. Our approach is simple, help our clients develop such strong relationships not only with us but with one another that they never want to leave!
This isn't as difficult as you think, this video will explain some of the systematic practices that have helped us do this (and some just so happen to really enhance your online authority and make all of your digital marketing efforts work better!)
---
December is a tricky month for fitness entrepreneurs.
Even though as fitness professionals we know that by beginning an exercise program now, even if you're eating all the delicious treats and having the occasional alcoholic beverages, that metabolically you're far less likely to gain weight through the holidays.
Even though we know that, it's a tough sell for our would be customer.
They are worried about paying for something they won't use. They're worried about the cost with so much additional expense coming through the holidays, and usually some time off work meaning small or missing paychecks.
And that's my point, whether it's December or January or any month of the year, and whether it's a fitness business or something else you have to, as they say, condition yourself to, "walk a mile in their shoes."
Always consider what your audience is feeling in that moment.
How can you make it easy for them to begin working out in December?
Truth is the only way is to mitigate the cost for them.
They will sporadically make time the best they can as long as they feel no anxiety about losing money or wasting money on services they haven't used effectively.
After all isn't that how you would feel?
Now I'm not talking about your existing, well-conditioned clients with committed and good habits, but new prospects in the month of December.
I would suggest in December you use a long trial promotion (like a 30 day trial) for your most aggressive price point, one that makes it feel as though they are getting the month almost for nothing.
In fact it can be creative and work well to run a "2 Months for the price of one" to lock them in for January too.
Many people will logically see, that they may work out a little in December, and now they're all set for their New Year's Resolution start and that they won't need you after that (you and I know otherwise but we have to help them get started to see that.)
Early January is tricky for us in boutique and premium fitness, because the consumer still feels the financial constrains of the holidays, and even worse they're governed by the "clean slate" mentality.
They are so inspired to workout on their own, and price sensitive that the inexpensive gym membership is much more appealing.
You know this to be true, as you've undoubtedly been faced with the "February Rush" of new clients that are frustrated and struggling. And the objection of, "well I don't know if I can afford it because I just committed to this 2-year gym membership."
So what do I suggest?
Here's the action plan I'd recommend for marketing your fitness business through Christmas and into the New Year:
Extremely low cost trial or 2 for 1 special in December using PPC and small but steady daily budget.
Use a "Membership Giveaway" as a big budget optin through the holidays. Because of their price sensitive nature everyone would love to win and will trade an email, it's a great chance to grow your list.
Run a New Year's 6-week challenge. This is my favourite time to run a 6-week challenge as it fits the discounted, aggressive, start and stop mentality of the consumer and gives me the time to show them the value and need to stay.
Toward the end of January get your regular marketing calendar back on track and run a big budget short term trial to capitalize on the 91% of resolutioners that are now frustrated and looking for help.
Like any industry the fitness industry has ebbs and flows by the season, and coupled with unpredictable local and global economic factors those ebbs and flows will vary which is why you need a long-term plan. By having a set plan you can more effectively react when the plan doesn't meet your expectation.
Wishing you the happiest of holiday seasons and much prosperity in the coming year.
---
---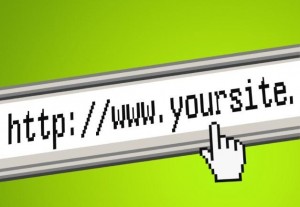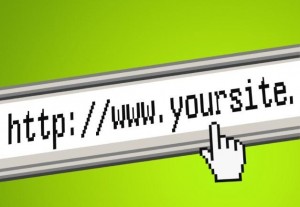 Is your website design wrong? Is there something wrong with your copy? Is the color scheme wrong? Could you improve your website in anyway?
You're probably making the same mistakes a lot of fit pros make…
It's 2015! Every fitness business should have a website. Yes, even if it is local! People may hear about you from word of mouth or recommendations but more often than not, they're going to Google you!
If you don't have a website you're losing out on so, so much potential business that you may not even know ever existed.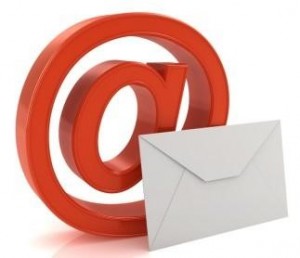 Unfortunately or maybe fortunately for you (so you have less competition), most fitness sites aren't set up correctly.
A lot of fit pros have the wrong idea and mindset when it comes to their site.
Your website is a valuable business tool that should be used as a marketing avenue to collect leads for your email list.
It's pretty simple.
So, before you go out and spend thousands of dollars on a website that has no real business value, learn about what a good website should contain first and then budget accordingly.
A good website should have the following things:
A Clean interface and Easy Navigation
Conducting some research on what people are typically looking for when they search for a fitness business and making sure that this info is easily found and accessed can put you miles ahead of your competition.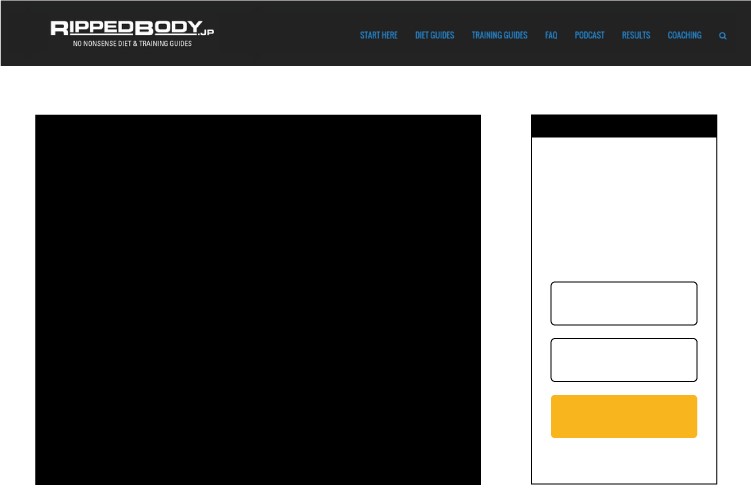 Your Story

Your story is a great way to let people know more about you. Personal training is a very, well, "personal" relationship between you and the client. So, explaining more about you, the type of person you are and your main values can allow the client to figure out whether you and they could be a good match. Personalities can often clash (as you'll probably already know) and many clients are known to want to find out a lot about the trainer before contacting them.
Your Results and the problem you're trying to solve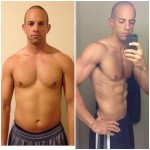 Showing proof of the transformations of people that you have already done is a great form of social proof and is a really important factor when clients are looking for a trainer. If they can't see any proof then it's just a stranger's word telling them that they will get results (to them anyway).
You need to outline the problem and then talk about how you go about solving it. If you want to take on clients that want to lose weight, then try to connect with them and get them "nodding their head" as you explain their problem… them come out with the solution – you!
Lead Capture Forms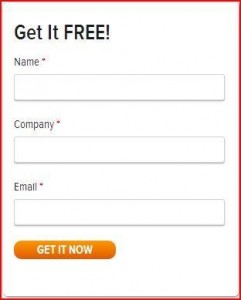 Lead capture forms are the next, extremely important asset to have on your site. If you can find a way to reconnect with a potential client (usually email) then you are well on your way to securing this person as a customer. If you don't ask or provide a way 9 times out of 10, you're not going to get.
Call to action
Following on from the previous note, a call to action is essential. Whether it is to sign up via that lead capture form or to go ahead and call you / get in contact with you or potentially go in for the hard sale (not generally recommended) if you, for example, offer online services.

Facebook Pages – Something to note
A business Facebook page is not a website.
Nor is a twitter page, an instagram page or a pinterest account… or just anything social-media related.
If you don't own it, it's not yours and it's not your website.

You don't own it. Facebook can shut it down at any time without warning… although it doesn't happen too much, owning your website gives you a valuable piece of real estate online something that cannot be taken away from you without reason or warning.
This is why it's important that own the actual site.
Another Important Note about Website Ownership
Did you know that you might not own your website (technically?)
If you have used a website builder (such as Wix, Webs or Weebly, you do not technically own that website design) if the company went bust, you would lose your website as well as all of the SEO that you may have spent developing that site on search engines.
Although they are appealing and easy to create yourself, if you have the funds, it's definitely worth getting a WordPress websites designed by a pro.
Why should I collect leads?
First, let's define what a lead is.
A lead is someone who is potentially interested in your business.
As a Fit Pro, your job is to "sell" fitness.
Getting new leads for your business is important for your growth and profitability.
Lead generation is the first step into your sales funnel. A sales funnel consists of three parts: leads, prospects, and clients/customers.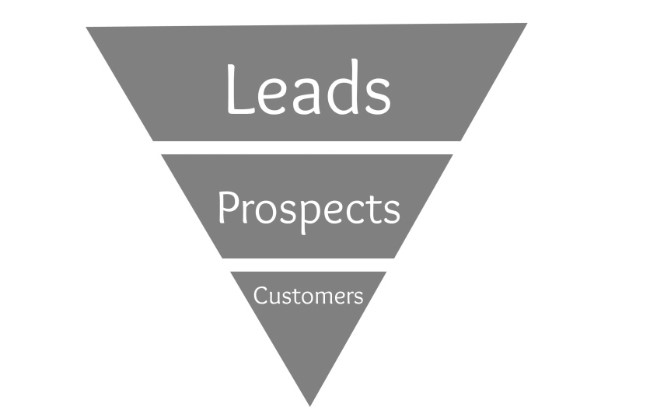 Your fitness business should aim to collect as many leads as possible so that you can qualify them and turn them into prospects and ultimately into clients. Sales is the lifeblood of any business and for fit pros this isn't any different.
However, make sure that you do aim for quality over quantity in a lot of cases. Although fitness is very generic and almost anyone can be "sold" fitness, it's important to choose people that you actually want to work with.
For example, don't go onto Facebook ads and target everyone in the America for your local training business! You need to find people locally, at an age range, gender and financial situation that you want to work with.
By doing this, you have more chances of, once a lead turns into a prospect, wanting to work with them and soon converting them into paying clients.
A fitness website should be set up to collect a website visitor's contact information. It can be email, phone number, and address.
How do we collect vital potential customer information?
There are many ways to collect a user's information. The simplest is to use a lead capture form such as the one here: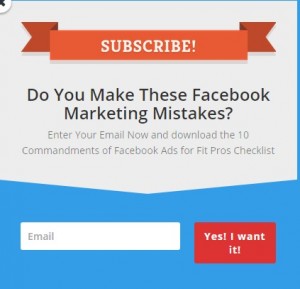 A lead capture form is a form designed to capture a visitor's attention and then, contact information.
By strategically placing this form on your website you can start gathering leads.
If you're using wordpress (recommended) you can use several plugins to help increase sign-ups and get more people's attention.
Here's a few that work well.
Thrive – A simple to use plugin that is designed capture leads and grow your email list. It has popups, slide in forms, and optin-forms.
Bloom – Another plugin and the one I use on my site. It's similar to thrive but it has more design options and includes features like popups, a/b testing and slide in forms.
OptinMonster– A popular lead generation capture software that can be used to build forms in minutes.
Every lead that comes in should be added to your email list.
In many cases, you will find that a prospect is not ready to buy from you yet, but if you get them to subscribe to your list you can get them to buy from you at a later time.
People need time.
They need to develop trust with you and emails are the best way to do this. Businesses, on average make a 400% ROI with email marketing. ON AVERAGE!
Your Story
What's the most visited part of any fitness / personal training site?
It's usually the about me / us section.
If you take advantage and use this page to tell a compelling story, then you're well on your way to converting more prospects into clients.
Neil Patel wrote a great guide to your "about me" section here. Your about me/us section should firstly offer a big benefit/solution to the problem you're trying to solve for the client.
For example, if you specialize in weight loss, you can use this section to tell a story of one of your clients and how they overcame this problem and back it up with testimonials and before/after pictures.
Next, you should tell your story and provide valuable information on your experience and background.
If you experienced this same problem yourself and relate a story on how you overcame this problem.
This will significantly help you connect with your leads and ultimately, give your more sales!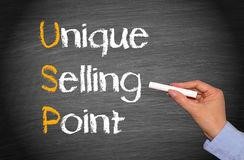 What's your unique selling point?
What makes you stand out from all the other trainers in your city?
Why should a prospect buy from you?
What makes you different?
What makes you better?
Your website should include a section that answers these questions. This is typically included in the about me section, too.
Testimonials

The best testimonials follow the "star, story, solution" format.
Star – It should start with your client's name and a background information on him/her. The idea here is for the client to be able to relate to this person (a previous client) on a 1-1 level. After all, they would have both been in the same situation.
Story – This part highlights their story and how they had a problem with their fitness. Each testimonial should be a different problem / story (if you generally work with clients with different problems) if you just specialize in weight-loss, make sure the problem is always, of course, weight-loss.
Solution – The final part should provide the solution and how the client used your training to overcome the problem they had.
Note: A good testimonial should always highlight the benefits they received by training with you. Make sure to add any extra bits and pieces that you did with them to make you stand out from the crowd.
Video testimonials work really well and can provide tremendous value to your site.
Before & After Pictures
A great example of before/after pictures is from Andy Morgan's results page here. Before / after pictures provide proof of your training results. The best testimonials include before / after pictures and provide a story of your client. Selfies work really well due to the fact that your leads can often relate, once again, at the same level… it's all about making these very down to earth and "normal" but at the same time, impressive.
Important Info
Locations – Easy to find address on your site… you can even add this into the banner of your site (at the top where your logo goes) and this means that it can be seen from any page.
Contact Us – This section should include your contact information. Emails, telephone numbers, Skype ID's and Social Media accounts are all good examples of this.
Why Use WordPress?
WordPress is the best content management form in the world.
If you're starting a site, WordPress is a robust but cheap solution that has many powerful features.
Due to the fact that anyone can create a plugin there are thousands of developers creating all types of innovative plug-ins for you to easily add to your site….Wordpress is based all on code so the possibilities are practically endless.
If you're starting out its content management software is the one that I recommend.
There's a reason the top marketers in the world use WordPress and specifically the genesis theme. It's simple to use and powerful enough to satisfy all your needs.
Lead Magnets
In order to capture a website visitor's information we have to "bribe" them.
We do this with a lead magnet. A lead magnet is a free gift that is given to them once they opt in and provide you with their contact information.
An example of a lead magnet could be one of the following:
Ebook
Cooking Recipes
Grocery Shopping Lists
Video workouts
Free Workout Report
It's important that the free gift has meaning to your potential client and that it's something they would want.
The free gift should capture the attention of the reader by providing a benefit rich headline.
How do I provide a benefit rich headline?
By finding out what your clients deepest problems and desires are.
You must ask yourself:
Why do clients train with you?
What problems are they trying to solve?
Emotionally what is the reason they want to train?
What myths do a lot of people have of trainers?
Once you know the answers, you can come up with a headline that addresses these types of questions.
A few good examples are below:
Personal Trainer Secrets Finally Exposed
3 Myths of Fat Loss Finally Shattered
Achieve Victory with these 5 Fat Loss Strategies
Call to Actions
Every lead-capture form must have a Call to Action button. A call to action button is used to provoke an action by the website visitor.
A call to action is absolutely vital if you want your leads to take action.
Online, people are very easily distracted and if what you want people to do is not crystal clear and easy with no technical bugs or issues, then the amount of people taking the action you want them to perform will decrease… simple.
Often, marketers will add more than one call to action on their website. You need to make sure that a call to action is visible, wherever the lead is on your site. And make sure this isn't in just the one place.
Conclusion
I hope this gave you a good understanding of the most important elements of a good fitness website.
Most fit pros don't have a clue of what makes a great site. Unfortunately, thousands of dollars are spent on unnecessary design elements that don't have much value.
Now that you have the tools and knowledge to make sure you don't make the same mistakes, go out there and create the best fitness website your city has seen.
Beat the competition, create an online presence and build your brand!
This guest post brought to you by Mauricio Cardenal; creator of The PT Advisor. He's been helping fitness businesses grow online since 2014. He loves fitness and marketing and currently lives in Miami but is planning on taking a world tour in 2015.
---
---
YES! Contact me today to schedule a FREE no obligation consultation and trial workout.
[contact-form-7 404 "Not Found"]