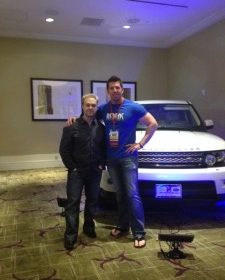 Since the last meeting of our 7 Figure Mastermind (so 90 days ago), Santa Rosa Fit Body Bootcamp has evolved tremendously. Among other things, we've streamlined our new member intake procedures, which has allowed me to sit down with virtually every new person who starts our program before they ever come in to work out. My closing ratios have improved; we're now over 95%. We used to hunt people down for weeks after they started a trial, half the time we'd miss the opportunity to ever get them in for a consult. In the off chance that someone hasn't already sat down with me and picked a continuation service, all of our coaches are now fully trained to make a first-class sales presentation (front end offer).
We've hired a new super assistant who has dramatically reduced my workload. She handles all Facebook interactions including the cocktail party from start to finish, all appointment booking, phone calls, and email inquiries. This is really helpful because we're now bringing in 40-70 new leads each month.
Since the last mastermind, we've increased our average transaction amount from $121 to $182. Our attrition rate has decreased for long-term members and we now retain 28-30% of our trials in 12-month programs. And the icing on the cake… We've had a 44% increase in monthly revenue generation!
I couldn't be happier with the decision to be a part of this incredible group.
NOTE: What Dallas being the humble guy he is doesn't mention is all the adversity he's faced over the last couple years, from his house burning down to dealing with a neighbour who literally shot his dog and so much more. In the face of great adversity through support of a cohesive group and proven strategies Dallas has proven that if you want to succeed you will! At this year's Fitness Business Summit the audience was so compelled by his story and success he was voted by his peers as the transformation champion and won a brand new Range Rover! What an amazing year!