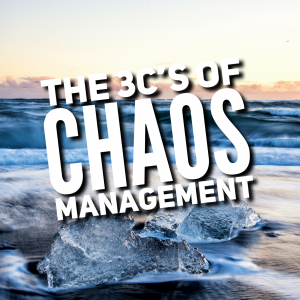 We all know by now if you're going to own your own business and be an entrepreneur chaos is nothing new.
In fact we must always work to embrace the chaos as the only time to worry is when chaos is enveloped by calm.
When all is "calm" that's a clear indication you're not pushing, reaching, stretching or evolving fast enough as a company or team and will be the time you're entrepreneurship is at real risk.
So this week's topic is "Chaos Management."
How do we handle and embrace chaos so that we don't become overly stressed or burnt out?
Let me share with you the concept of the 3C's of Chaos Management.
If you're striving and pushing as hard as you can life will always be chaotic.
Chaos attempts to break us, burn us out, or leave us paralyzed due to stress, this is the paradox of achievement.
In order to reach a new level of success or achievement we must face and avoid, or overcome burnout, mitigate stress, and still find time for joy and happiness in the midst of continually urgent demands.
Now success can be many things: helping more people become the best versions of themselves, finding more time to do things you love, establish more and more meaningful relationships and so on.
No matter how you define success to reach a higher level of success we must increase our level of output or expenditure to that activity. Make sense? (ex. Even reducing stress requires greater output; just the output might be different such as allocating more time for meditation and reflection.)
So what are the 3C's of Chaos Management?
First is Control.
With all the demands upon us inevitably some of that burden is within your "wheelhouse" the things that seem easier than the rest.
Usually we focus on these things first, they bother us less because we're comfortable with what we're facing, control is the easy part (but still make it a habit to deal with these items first because they increase confidence which will help with the remaining 2Cs.)
Next is Change.
What skills can you learn this week? How can you become more competent in what you already know? What things are you doing that you can do better at? What systems do we have that you see we could make more efficient? Is there a better way of doing something?
The real mark of embracing change is to take ownership and lead from the front; but as leaders we must really strive for our team to act in the same way.
We want them to feel comfortable and confident to vocalize ideas for improvements, ask for permission or take action to make improvements and then share their successes with their direct reports and team members.
Make it a safe place to fail and affirm that the only real failure is to fail to act or tray. (In our organization the only caveats being if there is a risk of someone getting hurt or a significant financial risk you must clear it with your direct report first.)
This is one of the purposes of the frequent reviews in an effort to increase collaboration and support change as a whole.
Finally is Cope with what you can't Control or Change.
Like I said above the paradox of success is we must embrace the chaos that comes with stretching in any area but with that there will always be things that there's nothing you can do about right now.
Do your best to embrace, accept and move on, not everything will work, it's certainly not going to be easy, you will let people or yourself down from time to time.
In the end coping is a part of striving and it's just a matter of asking yourself these two questions for all important affirmation:
Did I/Have I done the best I possibly could?
Has my positive impact/feedback outweighed that which I can't control/negative feedback?
Remember without chaos you are at risk for extinction.
Don't dread being busy, the unknown or the stress of responsibility for if you do you're in dreadful danger of adding to the statistic of entrepreneurial failure!
You've got this!
P.S. The image in the meme above is one of my own taken on a trip to Iceland last February at an amazing place called "Diamond Beach" I highly recommend checking it out if you ever get a chance!