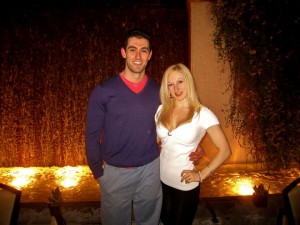 Kathryn and I attended our first MM in Vegas over the weekend and in my hot seat I explained to the group how the first time I did this with you back in NYC in October, I was damn near in tears explaining the state of my business. It was abysmal. Cabel used a phrase that resonated with us at the time, we were "making money and miserable."
Nowadays, we're still making money (more even) but it's not at the cost of our freedom, our happiness and our life. In fact, I recall some of your facebooks ads saying something like "attract tons of clients, earn more money, have more freedom" and you think to yourself, damn this is no better than those earn-thousands-while-you-work-from-home ads. And I am someone who's business is rooted in personal development. The business is called Motivators…and I couldn't get over those personally limiting beliefs.
So the reason I'm emailing you is first, to thank you. The business systems have, of course, had a huge impact on our growth in the last 3 months. But the largest change Bedros and the thing you've had the most impact on is not in our sales, marketing and client retention, but instead it's the change in myself, particularly on my mindset. Truth be told, any change I've had in business management seem to be the mere byproduct of a change in personal management. And the connection between the two cannot be understated. That if there is one thing you can focus on to help more people, let it be that. The idea that every business, team, country or organization is a reflection of its leader. Everything trickles down – culture, values and mindset. That if a business owner thinks shitty, lo and behold he has a shitty business. If a CEO is honest and values driven, you'll see that manifested in the organization. In my estimation, that idea alone is worth the monthly investment. That the success-minded individuals in the group remind you what success looks and sounds like and that to my initial surprise, they're no different than me.
And so when family/friends ask about the coaching, yes, I laugh about my former marketing strategy of "We're open…so people will come in." I tell them how now our marketing is based on a funnel with specific stages. But the thing I never fail to mention…the most honest statement I can make and the thing that's undergone the most dramatic change, is that formerly I believed that money, freedom and success were for the next guy. That that was an exclusive club of people that knew something I didn't…and I suppose they did. They simply knew they could have all those things. So now when I think about money, freedom and success, all I can think is… God help you should you stand in my way.
Thank you!